"In the same way that advocacy is resistance, we need to create space for rest, joy, and healing, and remember that as marginalized communities, that is revolutionary too."
AGE: 24
PRONOUNS: She/Her
HOMETOWN: Edmonton, Alberta
CURRENT RESIDENCE: Edmonton, Alberta
ORGANIZATIONS:
The Green Room Youth Program, an initiative of IslamicFamily (IFSSA)
Sustainable Development Goals (SDGs)
I am most passionate about: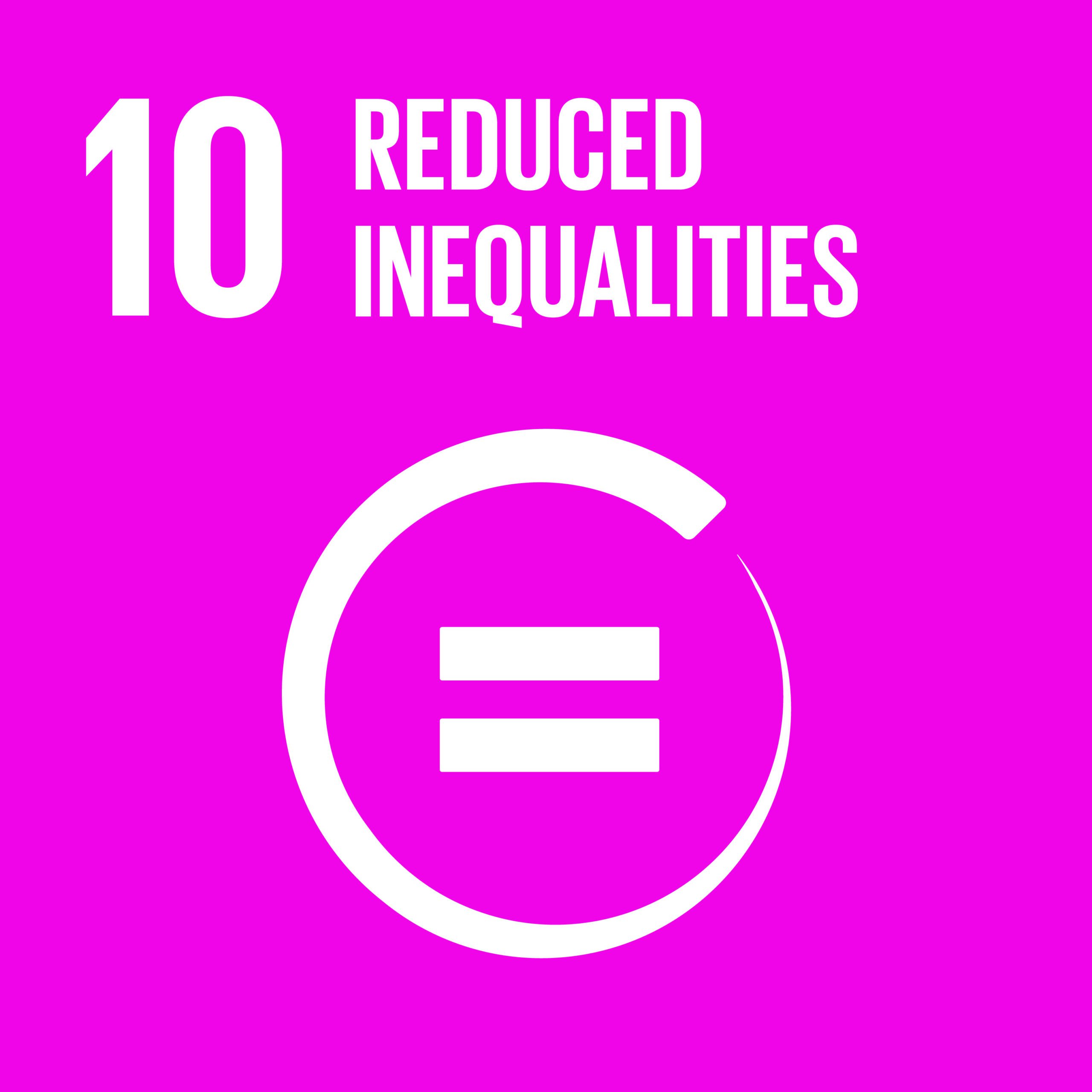 Which SDG are you most passionate about and why?
I am particularly passionate about SDG 10: Reduced Inequalities, which aims to reduce inequalities within and between nations. Indicator 10.2, in particular, refers to the social, economic, and political inclusion of all. I am inspired by the resilience of Black and Brown communities and the capacity of art to be used as a means of resistance to oppressive structures and forces within society. Art, not unlike activism, calls on us to imagine what flourishing communities look like. It exists in the tradition of future-oriented freedom fighters like Angela Davis, Assata Shakur, and the countless Black women whose resistance is in defence of the generations that have yet to come.
What issues are you most passionate about and what inspires you to take action?
Muslim Women in my community who exist at the intersections of multiple identities, safety is not a given. The uncertainty, erasure, and anxiety brought on by the events of the last two years necessitate resistance in the form of advocacy and education in order to build safer communities. Alongside resistance, healing in the form of community care allows us to do anti-oppression work sustainably and helps marginalized communities thrive. Healing in the form of artistic mediums, safe spaces for dialogue, and accessible mental health resources are points of focus in my practice. Additionally, anti-oppression work must center solidarity with Indigenous communities, including continued reconciliation and land back efforts. This past year I had the opportunity to serve the community alongside the team at The Green Room using a number of projects. One of the most exciting projects was publishing "Prayers for the Land and the People," a treaty six community prayer book filled with land acknowledgments written as reflections, prayers, and stories.
Additionally, in 2021 I released a collection of poetry titled "Incantations of Black Love." This body of work was written in honour of my many communities as a means of healing and to critique erasure and violence. I had the opportunity to perform select pieces from the project for Dr. Angela Davis, thanks to community networks.
How have you communities and those around you helped you to take action and make a difference?
Community is at the center of anti-oppression work—it happens alongside and in defence of my communities. Over the past year, this work has taken the form of healing circles in response to the attacks on Muslim women and advocacy for inclusive EPSB holidays in tandem with education about the inter-faith and inter-cultural traditions of EPSB students.
I had the opportunity to learn from organizing circles that mobilized at the height of the BLM protests and local communities that advocated for diverting funds from policing in favour of community support. Organized letter-writing, launching educational campaigns via social media, and presenting to the City council were all made possible by and with the support of communities coming together to enact change.
What do partnership and collaboration mean to you in your life and your work?
I am continually inspired by the resilience of a community that was capable of showing up for one another in spite of systemic violence and oppression. It is because of the resilience of my community, the mentorship of elders, and the willingness of other Black women to invest in my safety, growth, and well-being that I am able to thrive.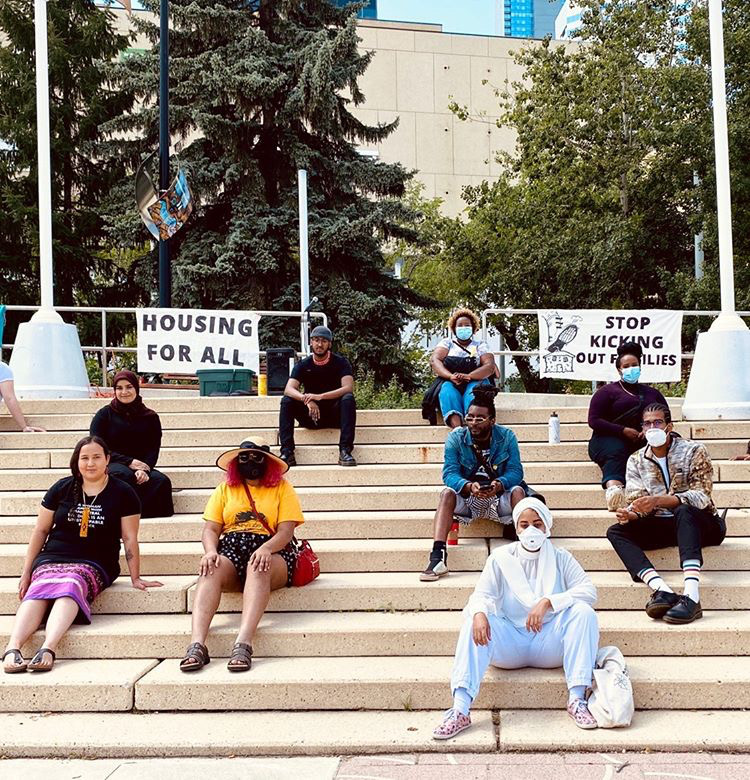 Block party in 2020 raising awareness and support for families at risk of losing housing at the Habitat for Humanity site in Edmonton. Timiro co-organized a poetry showcase with local Black and Brown Artists.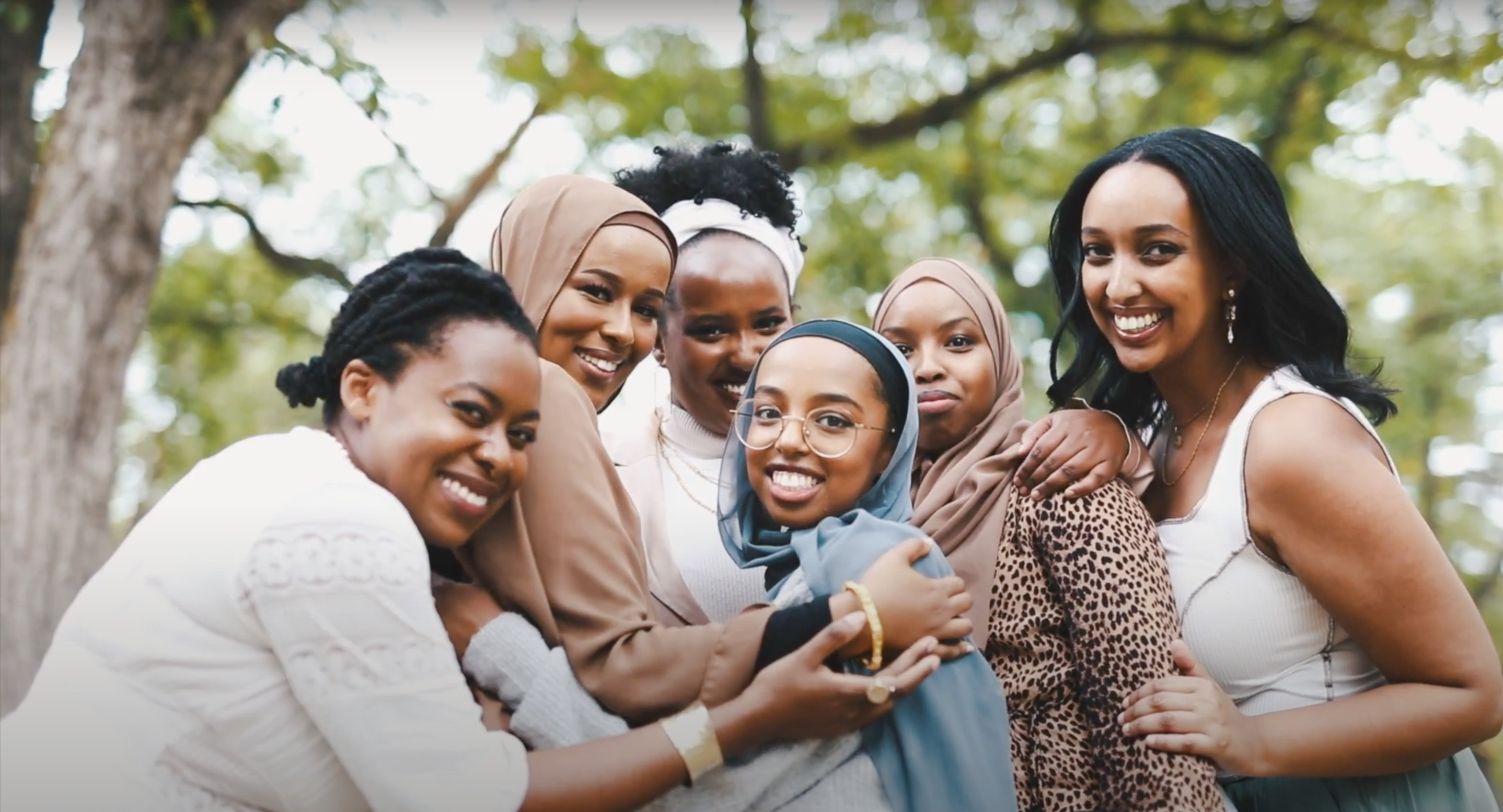 An image of Timiro and local Black Women in the arts community, from the poetry video "New Growth."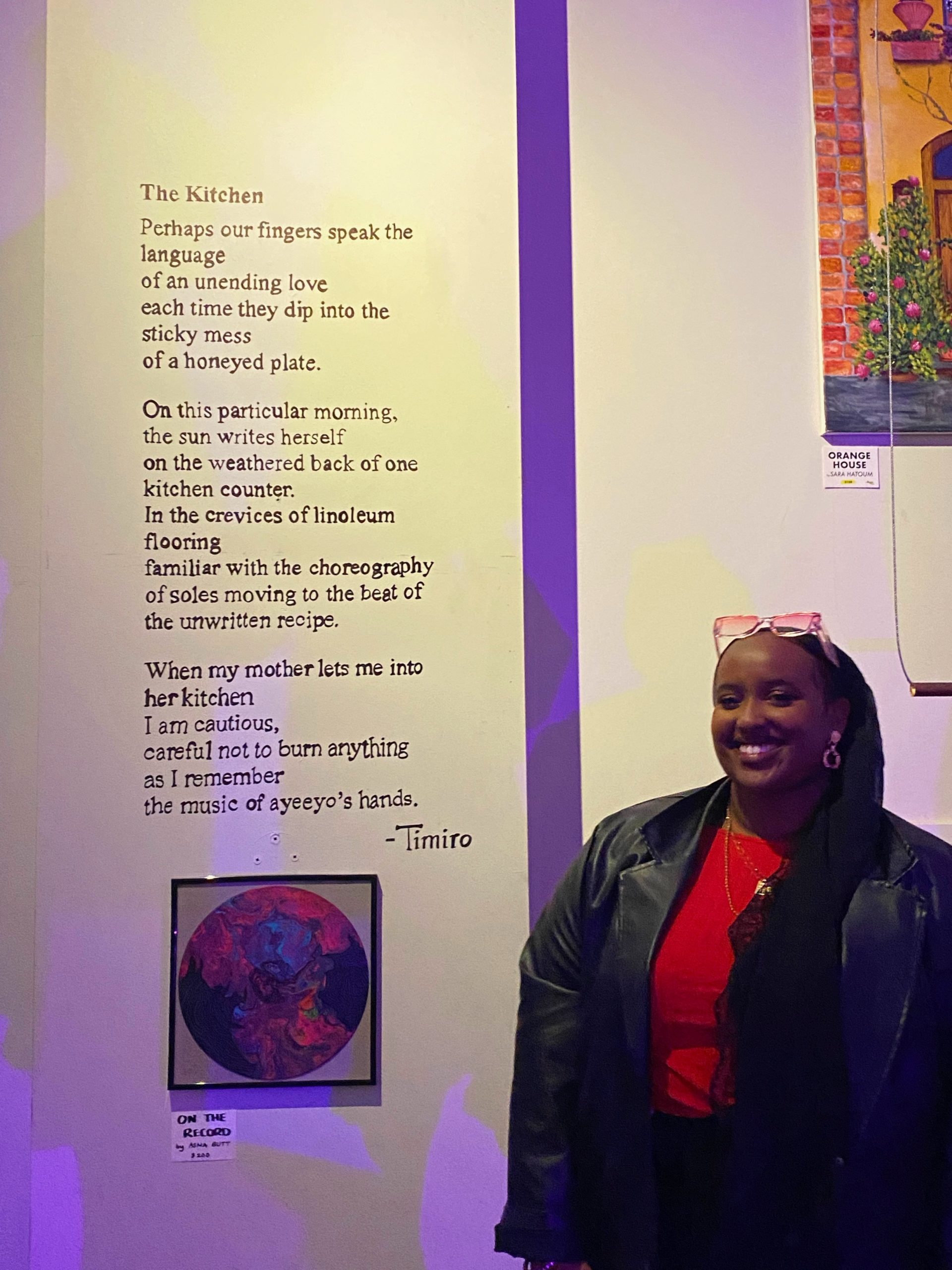 Timiro's performance for Angela Davis when she came to speak in Edmonton in early December 2021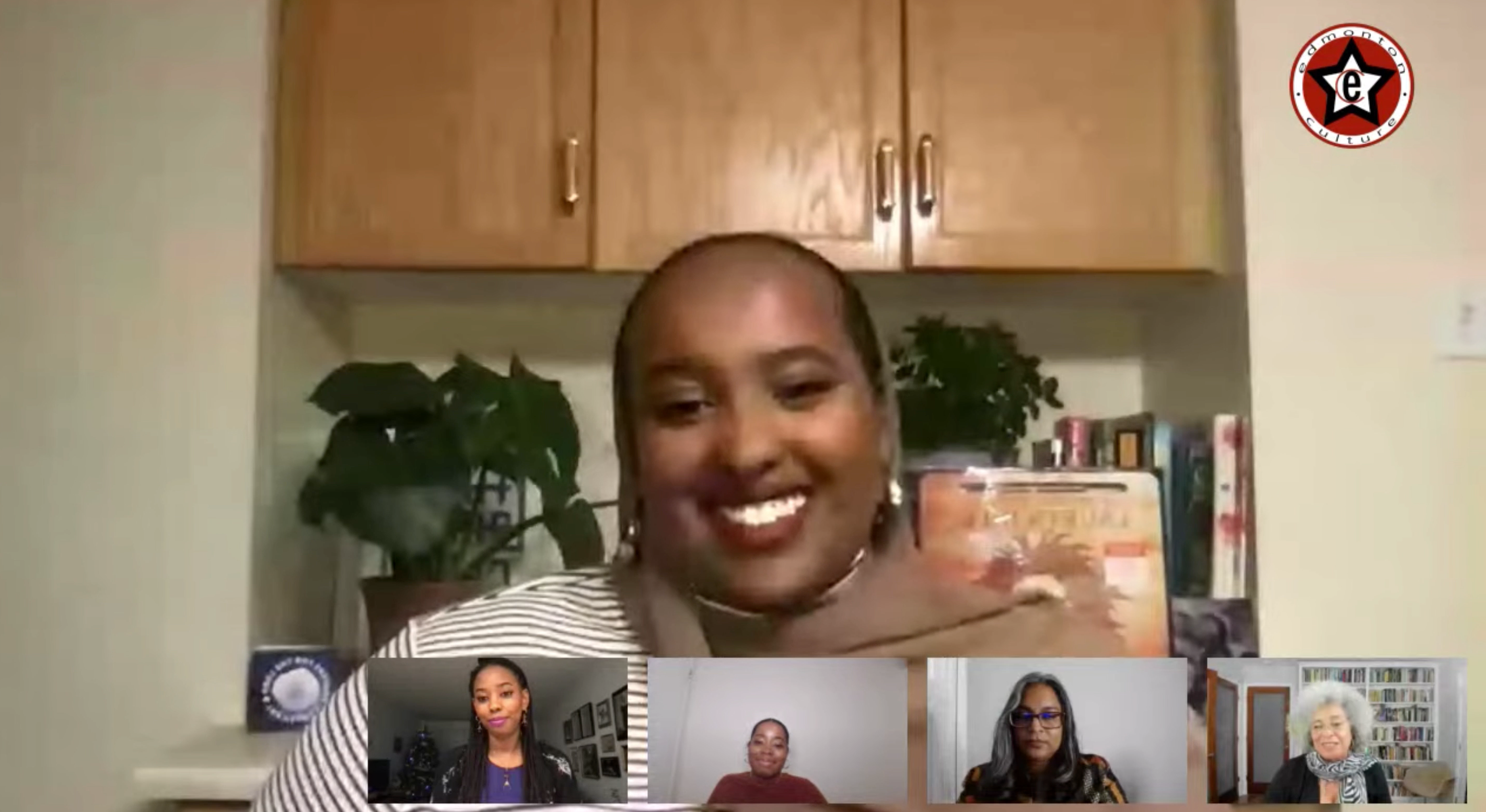 A photo of Timiro's artist feature at the Mosquers Makerspace event for Muslim artists in Edmonton, along with her poem "The Kitchen" from her poetry collection Incantations of Black Love