"It takes strength to survive, and however you've survived is brilliant."
AGE: 22
PRONOUNS: She/Her
HOMETOWN: Edmonton, Alberta
CURRENT RESIDENCE: Edmonton, Alberta
ORGANIZATIONS:
The Youth Guide

Equal Voice

Girls.20
Sustainable Development Goals (SDGs)
I am most passionate about: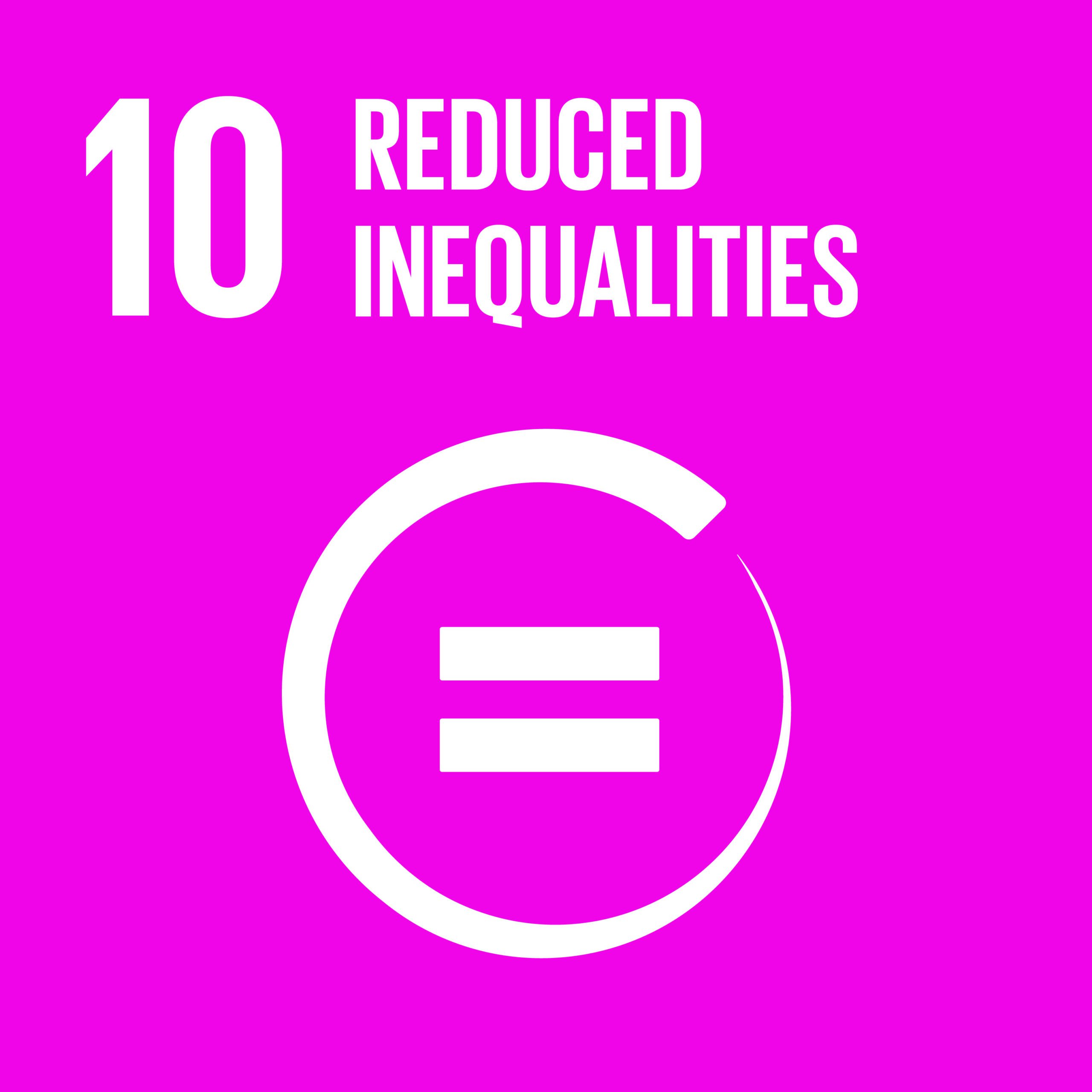 Which SDG are you most passionate about and why?
I am really passionate about SDG 10: Reducing Inequalities. As a member of a minority community, I've experienced a lot of inequalities due to my age, my gender, my ethnicity, and my religious background. To overcome the difficulties and prejudices that I have faced, I turned to my community for support. The support of my community provided me with skills and tools to inspire, empower and strengthen my own self-identity. In doing so, I was emboldened to face my challenges head-on. I would have been a completely different person if it weren't for that support, and therefore, I have dedicated a lot of time to serving this community and others outside of that community. My passion for the Sustainable Development Goal stems from my love for people and the will to use that love to help others fight their battles alongside them. I believe in community, and I believe in tackling inequalities in every way possible. This is why I began my involvement in politics when I was 19 years old – I didn't want to be complacent within a system that is deeply embedded with inequalities towards members of minority communities. As a global citizen, I believe that it is my obligation to use what privilege and voice I have to speak on these inequalities at every level that they occur.
What issues are you most passionate about and what inspires you to take action?
My greatest passion is creating a sustainable future for youth. As a young person, my community invested in and empowered me to go beyond what I believed were my abilities. Being surrounded by this energy is extremely uplifting. I believe it is my obligation towards my community to support as many young people as possible in any capacity I can. Being driven to support more people has helped shape my core values and beliefs. It has enabled me to become more educated and more self-aware about where I invest my support and resources. What inspires me to take action, on the other hand, is the concept of changing the world. I believe that micro-changes affect the macro. Although I never know which micro-change will cause a ripple effect on our global community, I will continue to invest my time in implementing as many micro-changes as I can.
How have your communities and those around you helped you to take action and make a difference?
I am a firm believer in the saying, "it takes a village to raise a child." I am a product of a village of people who have moulded me, raised me, and empowered me to become the person that I am today. It took a handful of people in my life to push me to believe in myself and to challenge me to become the best person I can be. Without them, there is no knowing where I'd be today. When I was only 14, I was recruited to join a team dedicated to planning a large festival in celebration of Eid—this included working with a large budget and producing an event with an approximated attendance of thousands of people.
One of my mentors told me that I'd be responsible for sponsorships – I didn't know what that meant at the time, let alone how to create funding for a project of that size. I wanted to back out from the first meeting, but my mentor would not let me. He set a goal of securing $20,000 by the end of the month, and to my surprise, I achieved the goal. That summer, I continued to ask questions and seek guidance, and he never told me to stop asking questions or shared that I was annoying him. My mentor's support was a testament to the importance of community in taking action and inspired me to give back to my community in the same way.
What do partnership and collaboration mean to you in your life and your work?
Strong communities stem from strong foundations. Collaboration is the strong foundation that enables people to feel part of something bigger than themselves. Strong partnerships are formed when you empower people to feel included and to include others. Being able to rely on community support can push you to find yourself, help others, and create change all at the same time.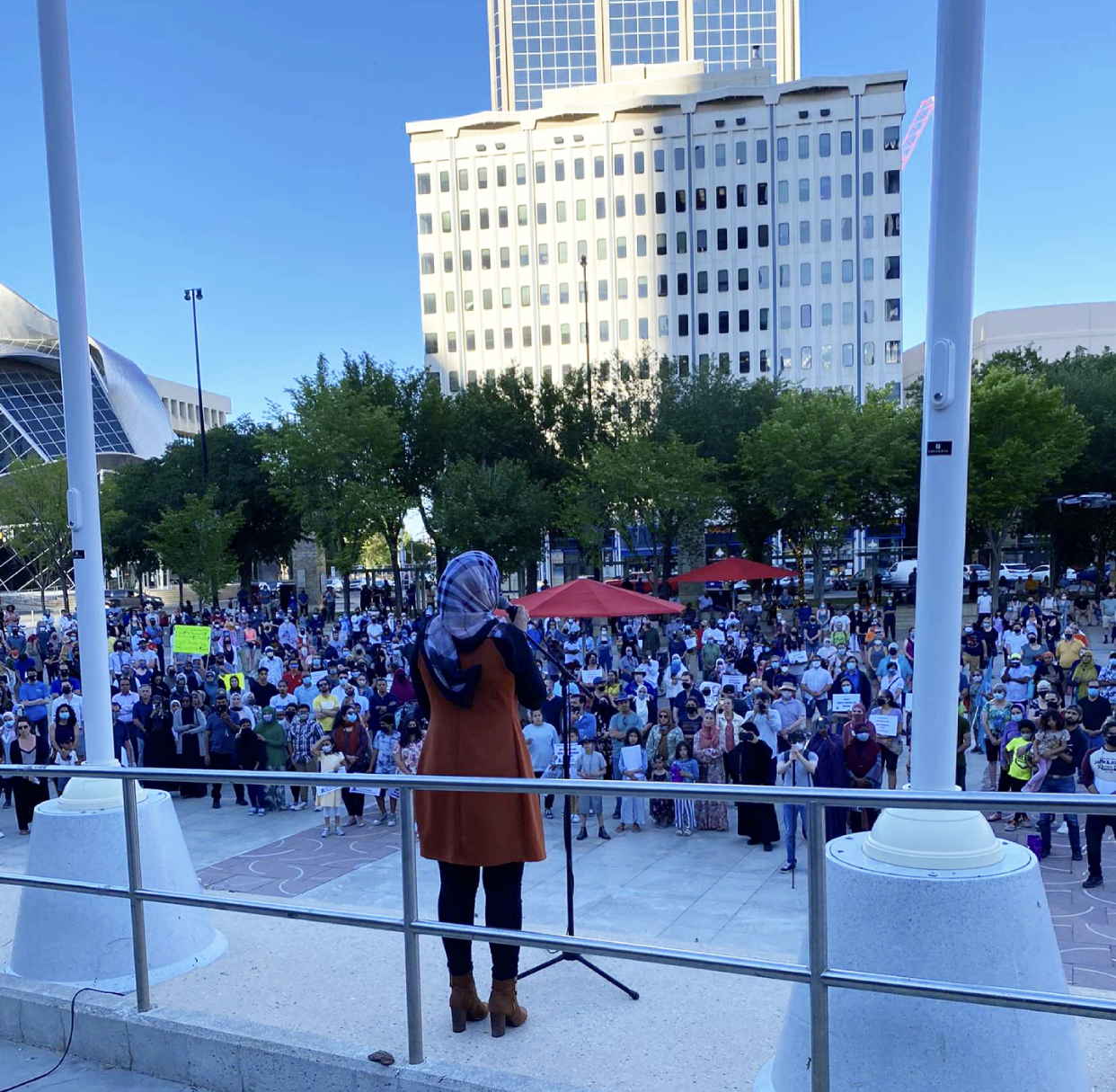 Amira MCing the rally hosted by NCCM to talk about Islamophobia and a call to action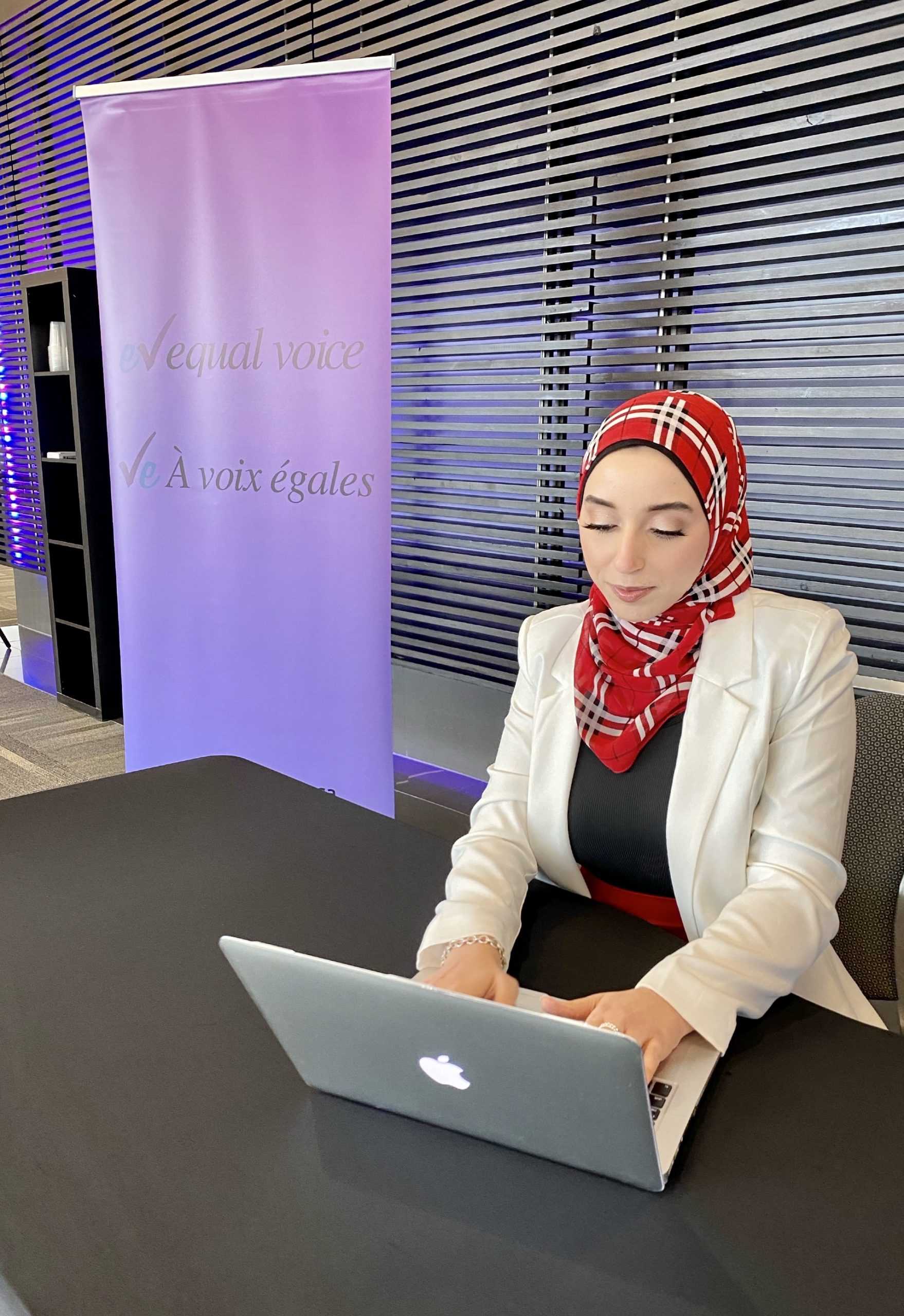 Amira preparing her presentation for the Equal Voice Celebration for the anniversary of the first woman elected a Member of Parliament in 1921. This conference was recently held in Ottawa and Amira was invited to present her organization as an example of an empowered young leader.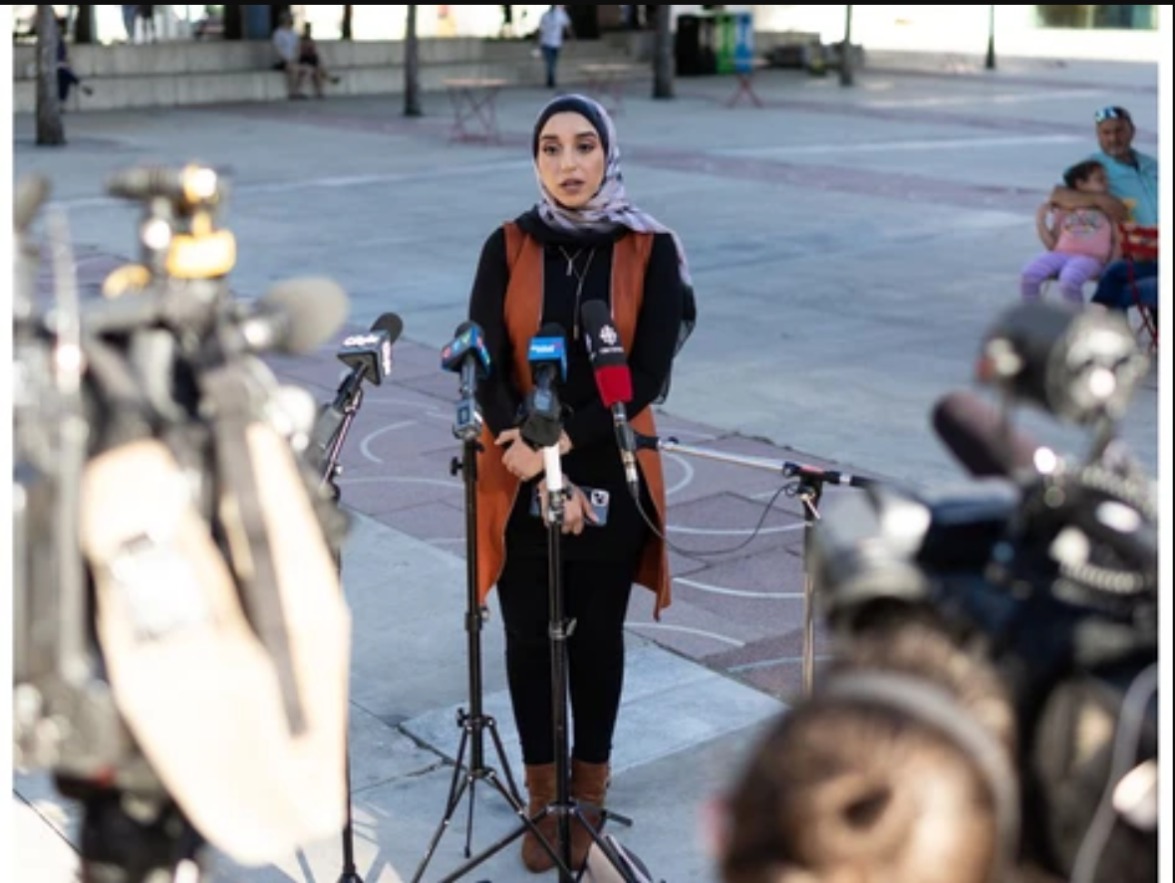 Amira speaking at a press conference hosted by NCCM to talk about Islamophobia and a call to action.