"The best antidote to the negativity of doom scrolling is to get involved with the volunteer sector—it is an inspiring place where you can make lifelong friends, learn new skills, and see the world of change your actions can bring."
AGE: 26
PRONOUNS: She/Her
HOMETOWN: Edmonton, Alberta
CURRENT RESIDENCE: Edmonton, Alberta
ORGANIZATIONS:
Ask Her YYC

Girl Guides of Canada

SUNIA (Seminar on the United Nations and Internal Affairs)
Sustainable Development Goals (SDGs)
I am most passionate about: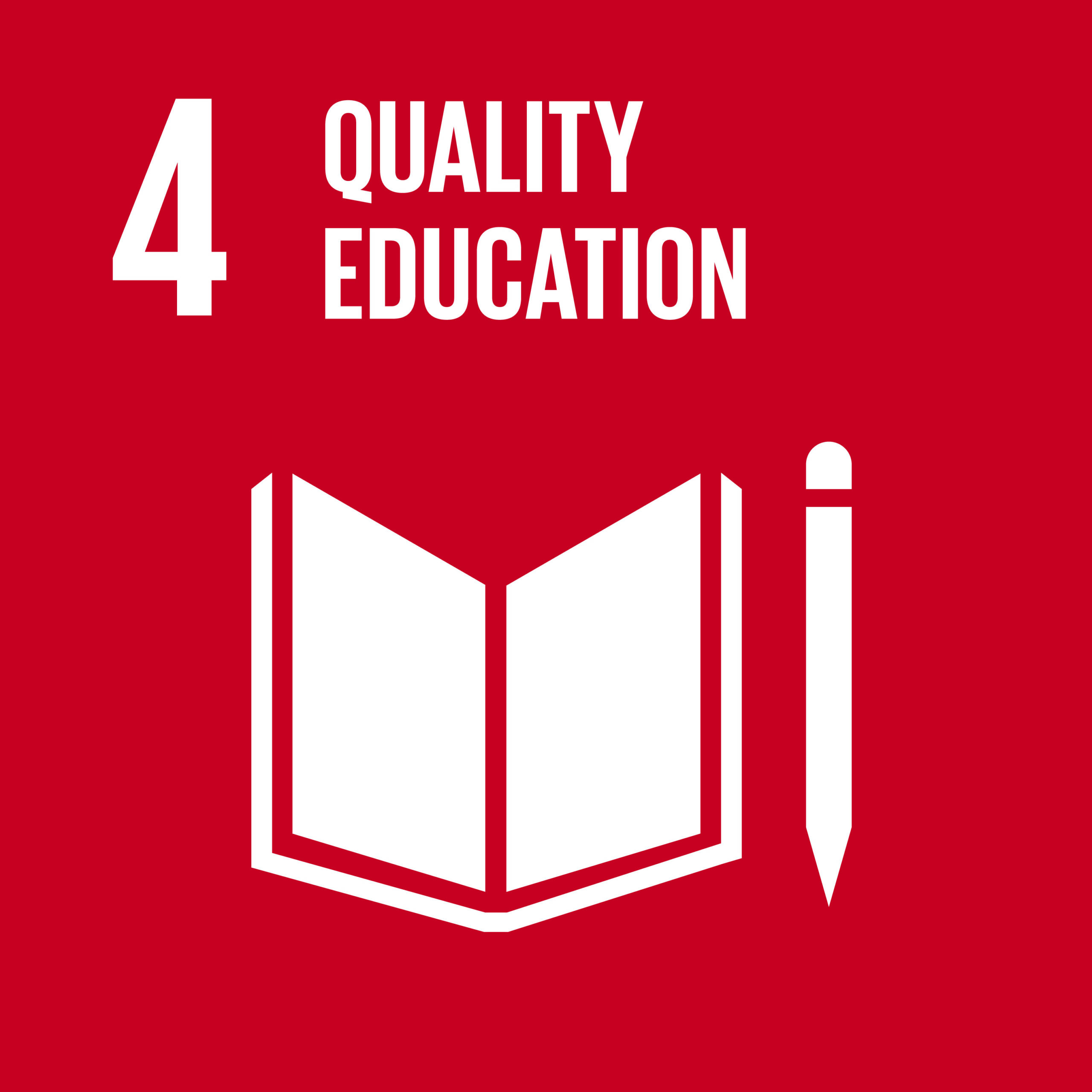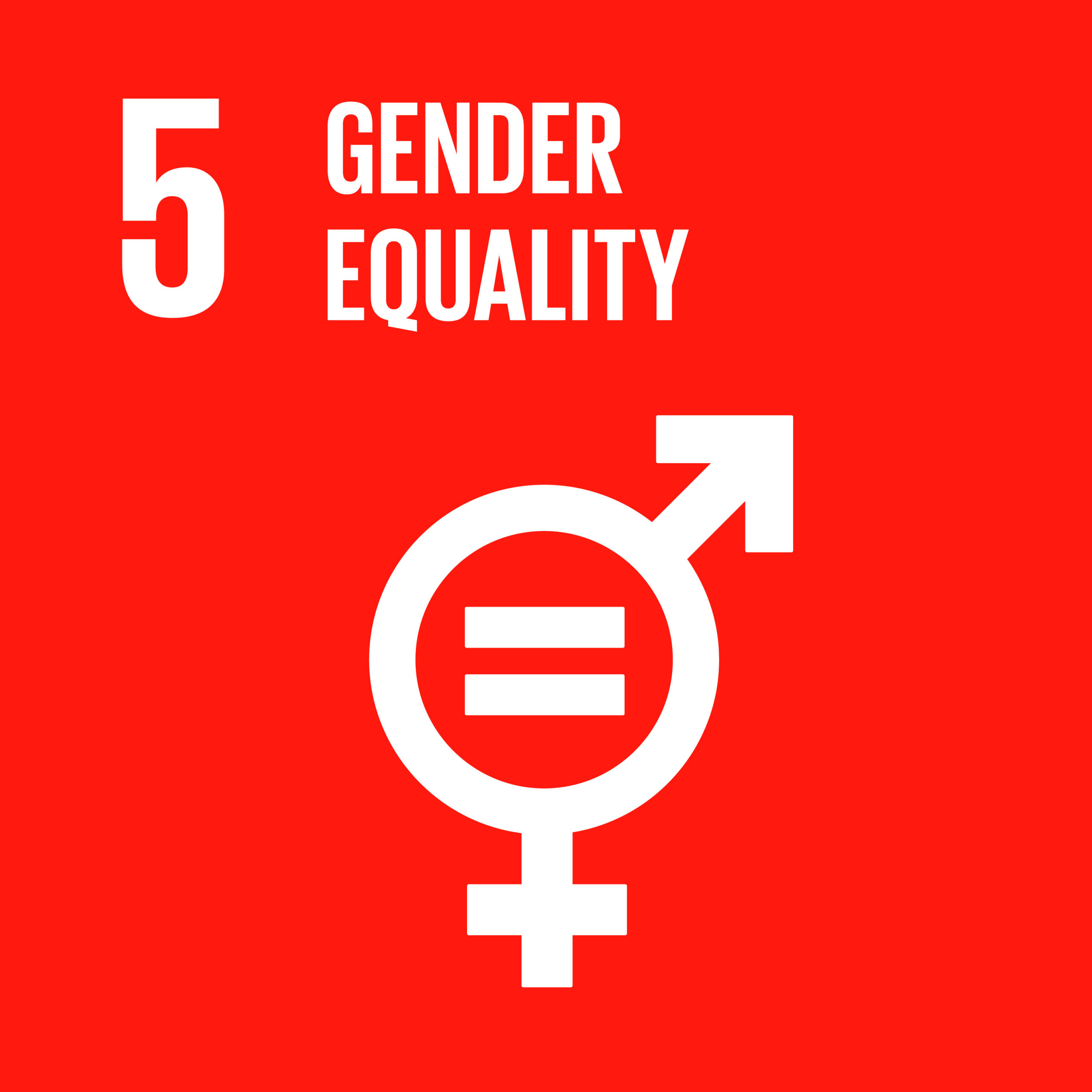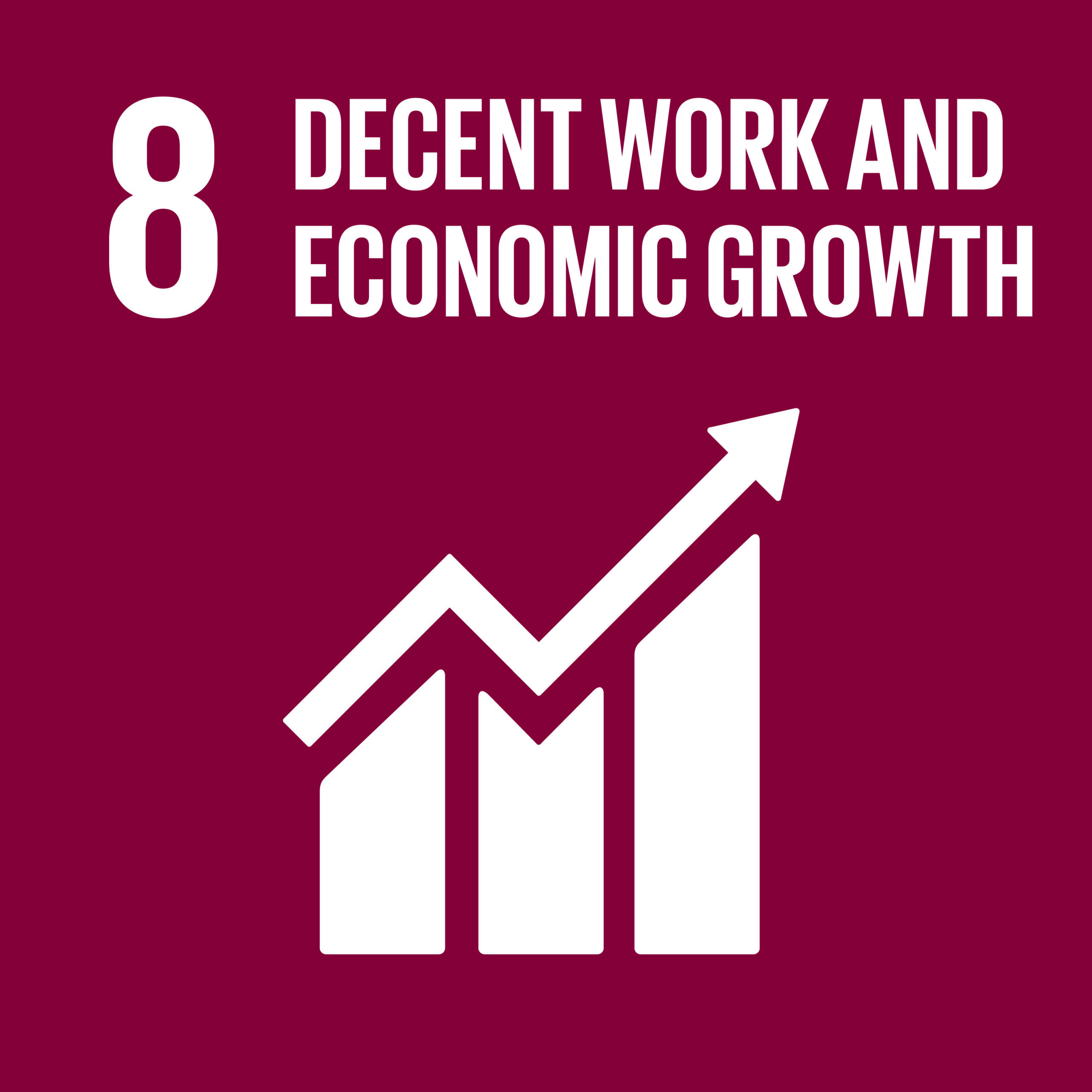 Which SDGs are you most passionate about and why?
Introducing high school students to the SDGs was a focus of one of my longest and strongest passions as a volunteer at SUNIA (Seminar on the United Nations and International Affairs), a summer camp providing an immersive introduction to global affairs. Achieving the global peace and prosperity envisioned by the United Nations' 17 Sustainable Development Goals means empowering people around the world to access a sustainable livelihood. I find inspiration from three related SDGs—SDG 4: Quality Education, SDG 5: Gender Equality, and SDG 8: Decent Work and Economic Growth. In my career working with Generation, a global employment non-profit, I am committed to enabling fair employment through lifelong learning opportunities. Through the organization's work in 16 countries, graduating more than 50,000 people from employment programs, I can see the life-changing impact of training on income security and a pathway to providing more equitable career opportunities for all.
What Issues are you most passionate about and what inspires you to take action?
The empowerment of women and girls is my most passionate focus. In 2018, I joined the board of Ask Her YYC when the organization started preparing to train 2021 civic election candidates to campaign successfully. Our volunteers devoted hundreds of hours to creating and delivering multi-module programs on election law, policy development, fundraising, and dealing with added pressures on women candidates. Election night brought significant progress, with four women associated with the program elected to city councils and numerous other program graduates playing key campaign roles. The empowerment of girls is also the mission of Girl Guides of Canada. As a Unit Leader for six years, I have worked to inspire girls to work toward the vision of "a better world, by girls." For much of the pandemic, I also served as National Link Liaison, providing training to women 18-30 years of age, and am now Guiding Ambassador, with a mandate to inspire girls from across Canada to take action to improve their communities.
How have you communities and those around you helped you to take action and make a difference?
Strong teamwork and the support of my community have been essential in all of my work, especially in empowering high school students with SUNIA and my work moving Calgary closer to political parity with Ask Her. In my position as Executive Director of SUNIA, I relied on our volunteer team and the organization's collaborative culture for support to develop new program content, promote enrollment, and keep spirits high through the challenging weeks of the summer camp. Collaboratively with our alumni community, we secured scholarship funding to ensure no students were excluded due to their financial situation. For additional expertise, we enlisted speakers with the United Nations and other organizations with an international focus. Ask Her YYC also depended on a core group of committed volunteers to plan and organize programs and events, plus the support of 55 additional community members to act as mentors and share expertise on topics such as battling imposter syndrome, understanding municipal policy, and developing a campaign communications strategy.
What do partnership and collaboration mean to you in your life and your work?
Collaboration is truly the fuel that has powered my volunteer work– from working with successful female politicians to inspire a new generation of women candidates to planning activities that help girls gain confidence through Girl Guide programs. These partnerships have an immediate impact, but they also create connections between people who care about their communities—locally and globally—and are focused on creating a fairer and more equitable world.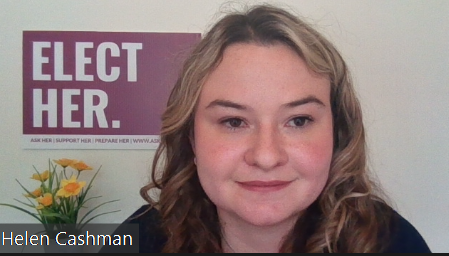 Helen speaks on behalf of Ask Her YYC during a virtual panel discussion on the need to increase gender parity on Calgary's City Council.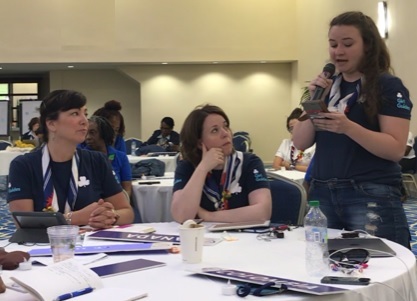 At an international conference of Girl Guide leaders, Helen (standing) talks about the need to include more young women in decision-making roles.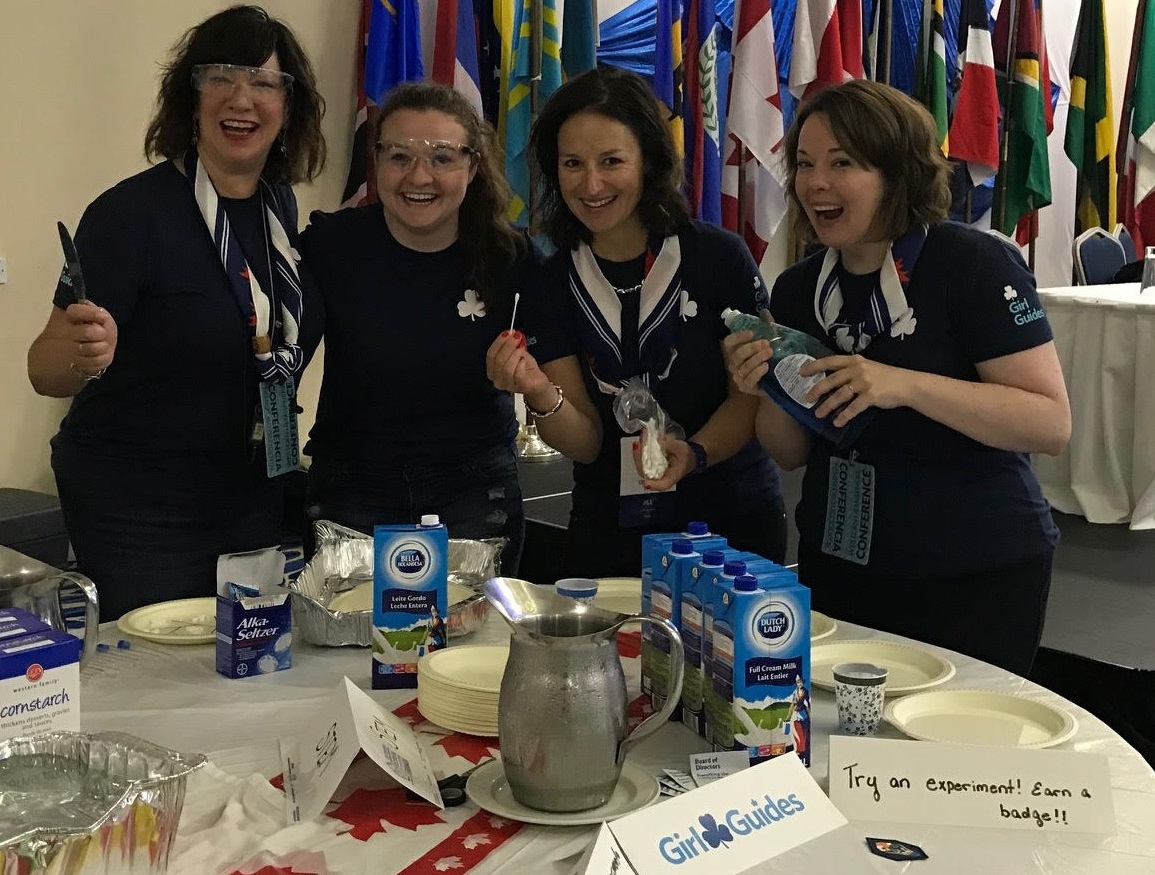 Helen (second from left) joins with Girl Guides of Canada representatives demonstrating fun experiments that can be used to get girls interested in careers in science at an international conference.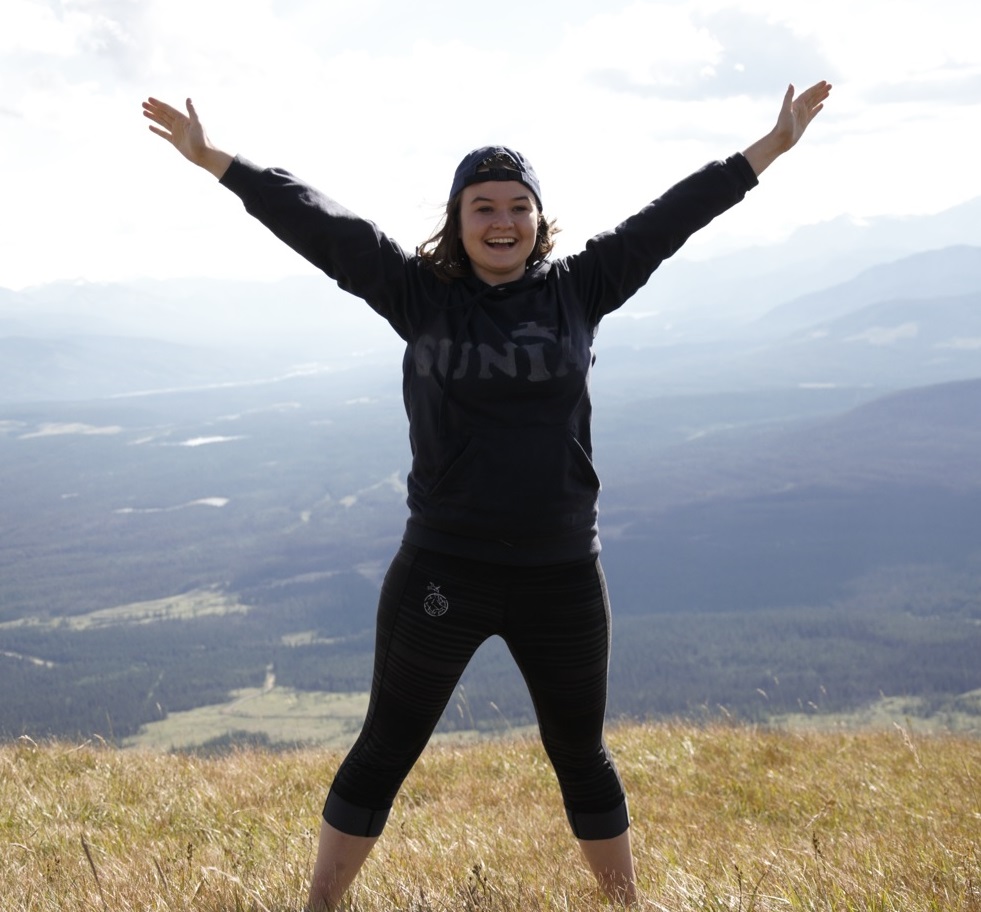 Helen after hiking to her favourite Rocky Mountain viewing spot while a camp counsellor with SUNIA, the Seminar on the United Nations and International Affairs.