"Through active participation in governance and decision-making, youth play a crucial role in the development of the communities we want to live, work and grow in."
AGE: 21
PRONOUNS: He/Him
HOMETOWN: Winnipeg, Manitoba
CURRENT RESIDENCE: Edmonton, Alberta
ORGANIZATIONS:
Office of the Commissioner of Official Languages (OCOL)

Young Diplomats of Canada (YDC)
Sustainable Development Goals (SDGs)
I am most passionate about: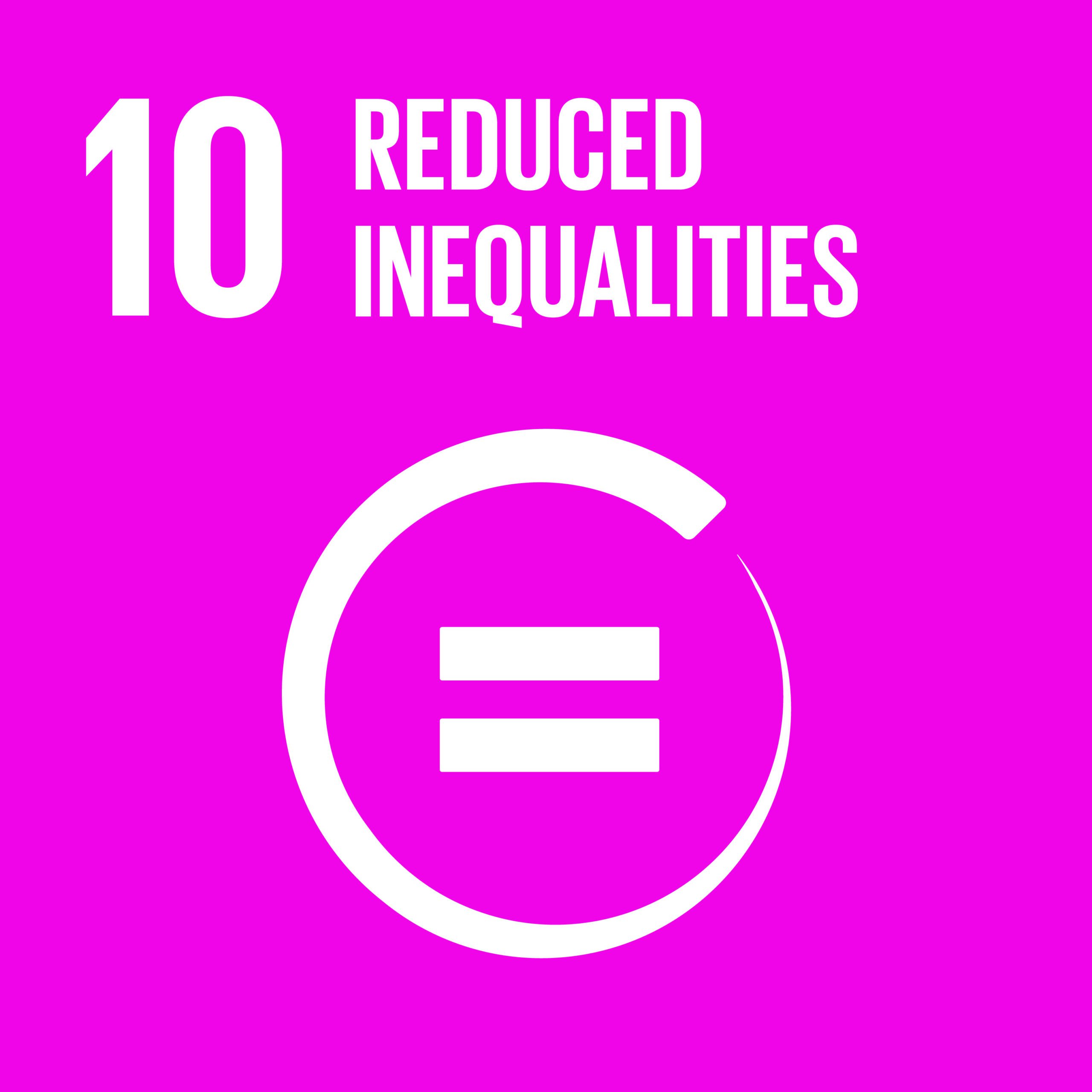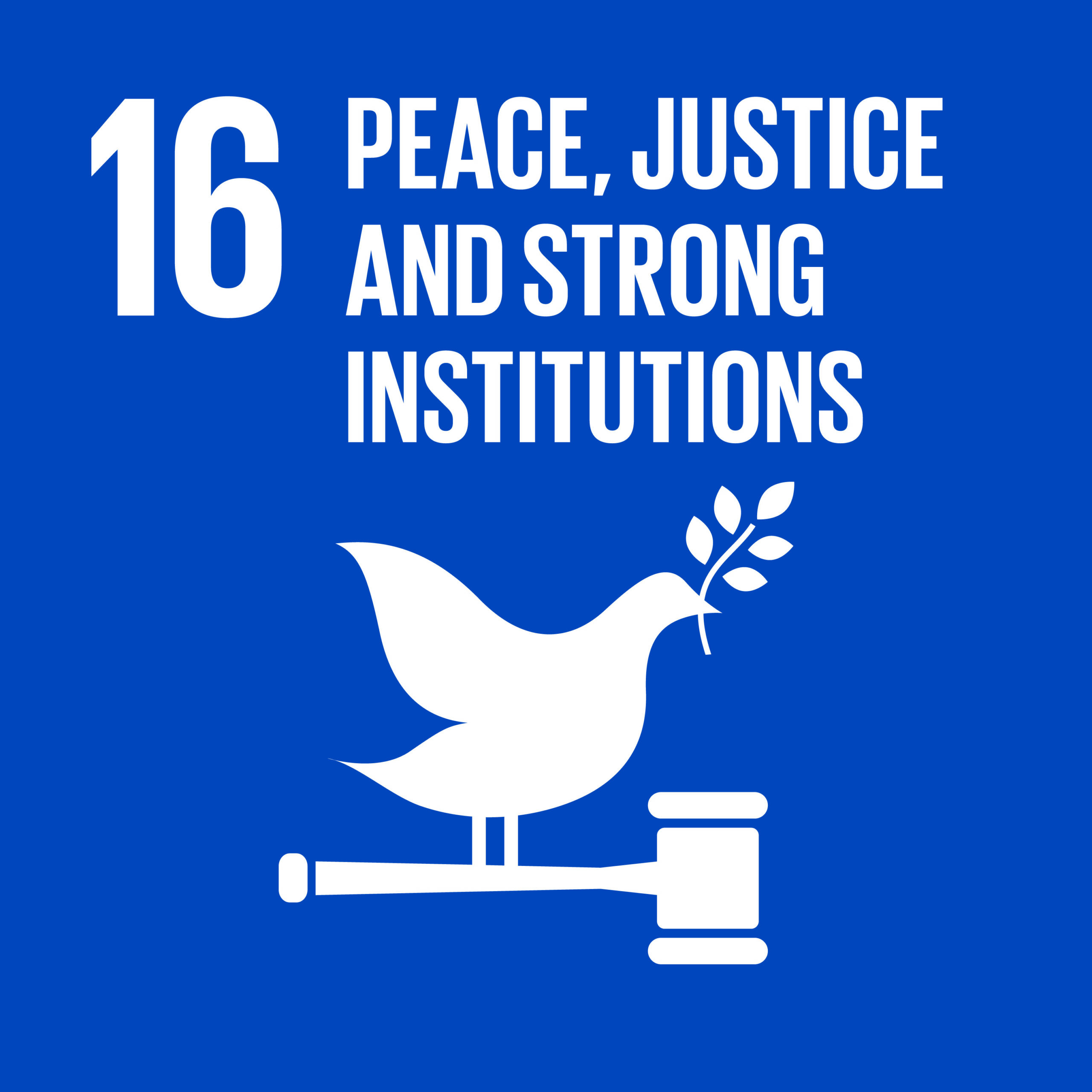 Which SDGs are you most passionate about and why?
The two SDGs I am most passionate about are SDG 10: Reduced Inequalities and SDG 16: Peace, Justice, and Strong Institutions. As a person at the intersection of several marginalized communities, I've witnessed inequalities that members of minorities face- this is why SDG 10's targets of promoting inclusion, ending discrimination, ensuring equal opportunities, and enhancing representation resonate deeply with me. The COVID-19 pandemic has highlighted and exacerbated existing inequalities in both our local and global communities. By working toward SDG 10, we can create a fairer world for ourselves and for future generations, all while working toward SDG 16; ensuring communities have peace, justice, and strong institutions helps reduce inequalities and empower communities experiencing marginalization by providing the tools necessary to amplify their voices in decision-making spaces.
What Issues are you most passionate about and what inspires you to take action?
Over the last several years, I have become increasingly passionate about several issues we face as a society. Taking a closer look at issues such as racism, homophobia, misogyny, and other forms of discrimination that add to societal inequalities, it can be seen that they are rooted in colonialism. Growing up in a family that fled a former British colony, I have seen, heard of, and experienced the continued effects of European colonialism. These experiences lit a flame in me to continue the work of decolonizing all spaces by amplifying perspectives from groups that continue to experience the effects of colonialism. The causes I am most passionate about include youth engagement, fighting religious intolerance, removing institutional barriers for racialized and 2SLGBTQIA+ individuals, increasing access to decision-making spaces, and empowering official language minority communities while advocating for the importance of Indigenous cultures, languages, and nations.
How have your communities and those around you helped you to take action and make a difference?
My communities have been instrumental in fostering my ability to make a difference by helping me blossom into who I am today. Firstly, my communities have given me the confidence to be my most authentic self. Despite being insecure about my intersectional identity growing up, the encouragement I received from the Franco-Albertan community pushed me to create Les Francos oublié.e.s. In this podcast, youth from marginalized communities could speak boldly and authentically about unspoken issues within the Francophone community. Other youth allowed me to gain the necessary leadership skills, knowledge, and experiences by putting their confidence in me to serve as the Chair of the City of Edmonton Youth Council, where I found a community of mentors. Finally, when I needed comfort, my family and spiritual community had my back and taught me how to be resilient and strong. All these communities have stood by me and fed my passion for making a difference.
What do partnership and collaboration mean to you in your life and your work?
To me, partnership and collaboration are synonymous with empowering and uplifting one another with the common goal of collective well-being. It is thanks to this empowerment and upliftment that I received from other members of my communities that I have been able to realize my passions and reach my potential.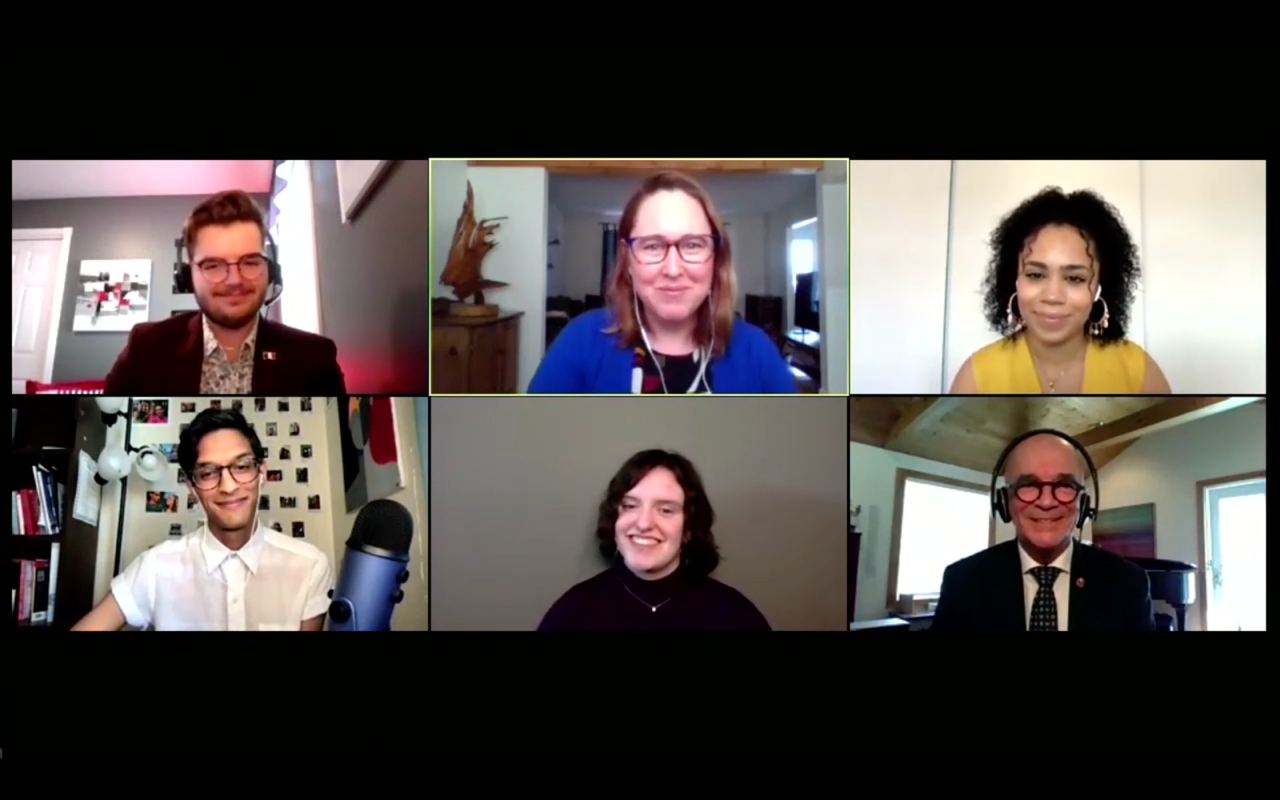 Ahdithya speaking about the realities of living in an official language minority community for the 2021 International Day of the Francophonie panel facilitated by Sen. René Cormier and hosted by the Government of Canada.
Ahdithya following a Bharatanatyam (South Indian classical dance) performance at City Hall for Rhythm and Rhyme 2019, an event hosted by the City of Edmonton Youth Council where he served as Vice-Chair of Engagement & Outreach that same year.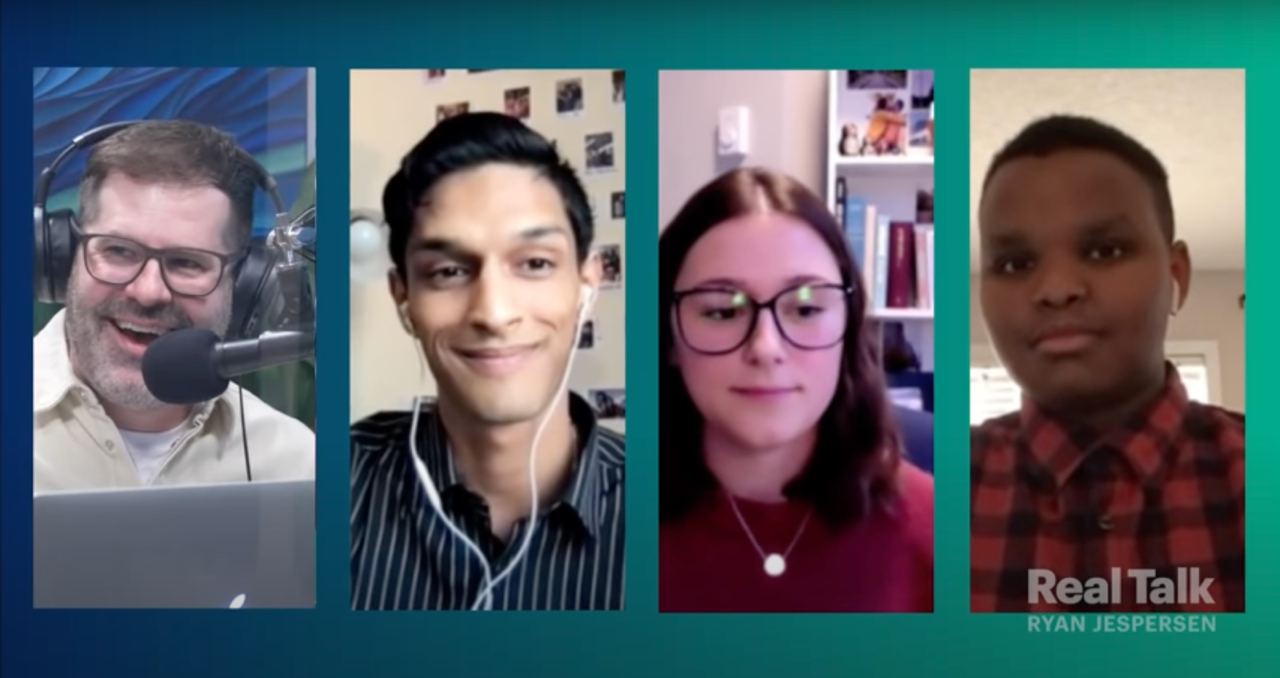 Ahdithya in conversation with other involved youth on Real Talk with Ryan Jespersen in early 2021 regarding the exodus of youth from Alberta and the reasons behind it.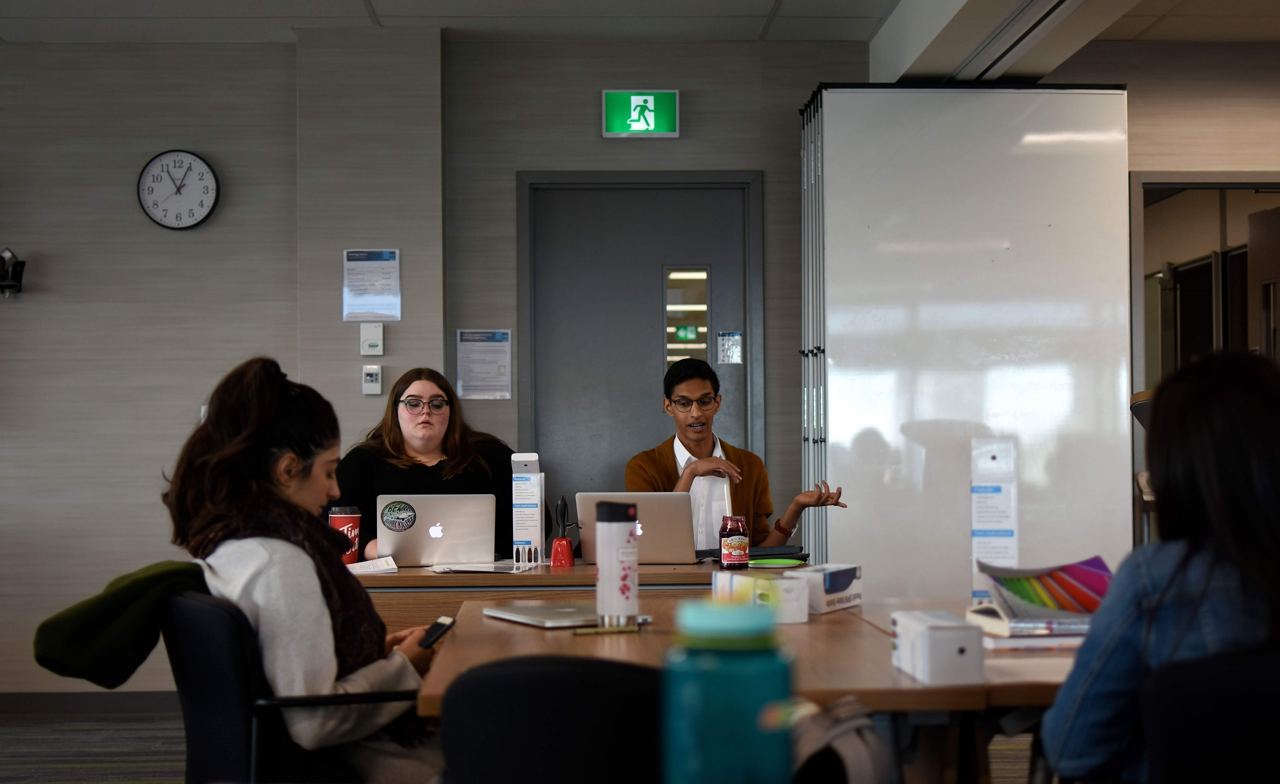 Ahdithya leading the City of Edmonton Youth Council's 2019-2020 Strategic Planning session as the newly elected Chair.