Nelson Jeovany Rodríguez Amaya
Top 30 Under 30 2020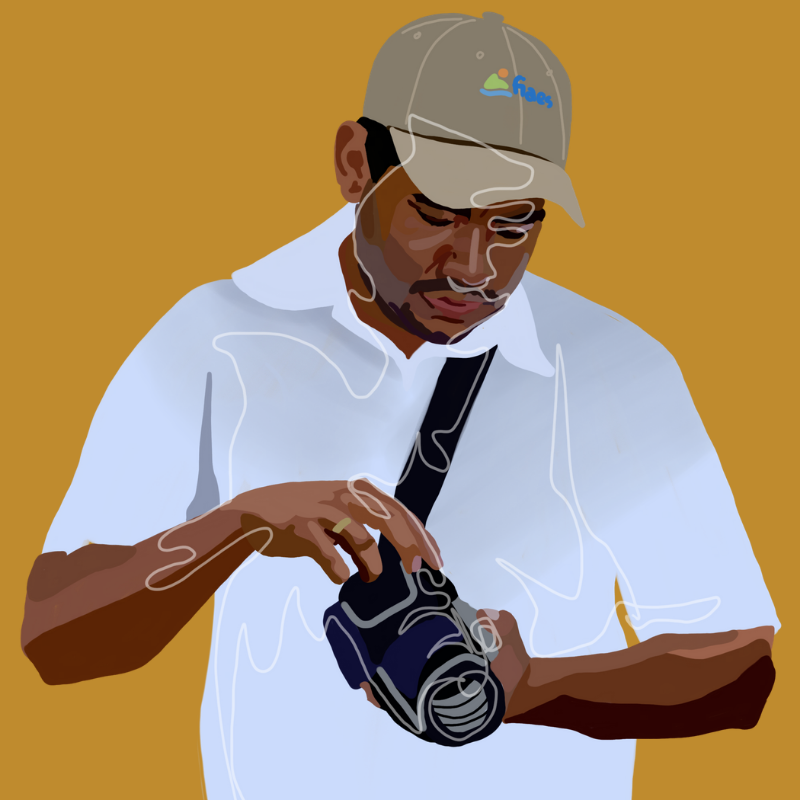 Nelson was born into a family of freedom fighters from the Salvadoran civil war. They taught him to "fight for justice" for his community. Today, he commits himself to the practice of communication for sustainable development with a focus on culture, historical memory, restoration, and environmental conservation.
Age: 29
Hometown: Jocoaitique, El Salvador
Currently Residing In: Torola, El Salvador
Projects and Organizations
Present: Comunidades Eclesiasticas de Base de El Salvador – Youth Group Facilitator / Documentary Filmmaker
I facilitate youth groups throughout the school year on human rights, healthy sexuality, and moral and Christian values as part of the formative process promoted by Comunidades Eclesiasticas de Base de El Salvador (CEBES) Morazán. I am currently working with the CEBES team to compile the historical memory of CEBES work through the documentary "Memory of the Base Ecclesial Communities in the North of Morazán."
Unidad Ambiental Municipal (UAM) – Coordinator
I coordinated the Municipal Environmental Unit (UAM) and managed the environmental legislation of the municipality. I also coordinated environmental projects with the communities.
Red Digital Magazine – Founder
I am the founder and producer of Red Digital Audiovisuales, an online magazine that covers content on culture, the environment, and historical memory. We support local organizations to visualize their contribution to the development of communities.
Other Associations: Radio Segundo Montes, Asociación Jóvenes hacia la Solidaridad y el Desarrollo (JOVESOLIDES), Asociación de Desarrollo Comunal Nuevo Progreso, Fondo de Inversión Ambiental de El Salvador, Comisión de Restauración Ambiental de Morazán
Which of the United Nations Sustainable Development Goals resonates most with you?
The following objectives are linked to my work: SDG 2: Zero hunger, SDG 11: Sustainable cities and communities, SDG 13: Climate action, and SDG 15: Life on land.
I believe that in order to achieve the fulfillment of the objectives above, it is necessary to work for SDG 11: Sustainable cities and communities. We achieve more sustainable communities by encouraging young people to seek higher education so that they can contribute to the eradication of violence, improve social inclusion, and develop environmentally sustainable spaces.
What change would you like to see in the world by 2030?
I want a world where everyone has the opportunity to contribute to a complementary vision of how we can eradicate conditions of vulnerability in communities. It is necessary to educate and engage everyone in the ways of positive environmental practices to stop the degradation of natural resources so that we can have a more sustainable world.
How did you get involved in sustainable development?
I took my first steps as a participant in the different training programs offered to youth by CEBES and then joined the community leader groups that worked to form the next generation of youth as engaged citizens. These groups taught me how to how to become a community builder.
What advice do you have for other young adults looking to get involved in sustainable development?
Assume leadership in a key position for the management of the community organization.
Integrate into the different groups or committees of the communities.
Promote knowledge management to transform communities.
Address the needs of vulnerable groups and seek solutions to their needs through resource management.
"La comunicación es un proceso clave para entender las necesidades de las comunidades y encontrar soluciones de manera conjunta."
"Communication is key to understand the needs of communities and find solutions together."
-Nelson Jeovany Rodríguez Amaya
More Top 30's from 2020