Joud Nour Eddin
Top 30 Under 30 2020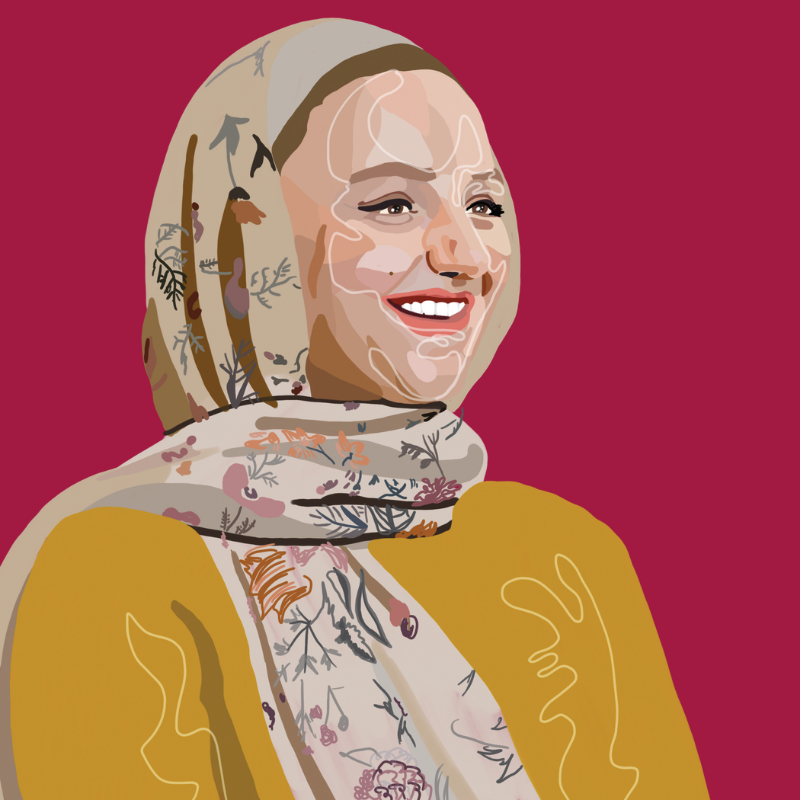 Joud, who fled Syria in 2012 to later arrive in Canada, studied global health and is now a research assistant at the University of Alberta. From her experiences as a refugee, she has dedicated herself to humanitarian work and refugee advocacy in Edmonton and around the world.
Age: 28
Hometown: Aleppo, Syria
Currently Residing In: Edmonton, Alberta
Projects and Organizations
2019–Present: University of Alberta – Research Assistant
I work with the research team in the Department of Educational Psychology conducting research on the topic of psychosocial adaptation and integration of Syrian refugees using community learning empowerment groups. I assist in research, share knowledge through conferences, and take on the role of cultural brokering.
2019–Present: Refugee Health Coalition – Project Assistant  
I work with the Refugee Health Coalition on a project to conduct a comprehensive needs assessment of refugee health in Edmonton. This project will provide the community with clear data on strengths and challenges that refugees experience when accessing health care in Edmonton.
2019: Change for Children – Practicum Student
I worked with the Change for Children team and reviewed organization policy documents, created a grant-tracking tool, and wrote funding proposals.
Other Affiliations: Multicultural Health Brokers Cooperative, Save the Children
Which of the United Nations Sustainable Development Goals resonates most with you?
I find that SDG 16: Peace, justice, and strong institutions and SDG 10: Reduced inequalities resonate most with my work and my goals. Refugees flee their homes due to various unjust circumstances that include war, political instability, and persecution. Through my work, I aim to reduce inequalities by advocating for an increased representation of refugees in decision-making processes.
What change would you like to see in the world by 2030?
According to United Nations High Commissioner for Refugees (UNHCR) figures, nearly one person every two seconds is forcibly displaced as a result of conflict or persecution. This shocking number puts a huge responsibility on our shoulders to do something about it.
I believe that change starts by shifting discourse away from damage and victimization toward strengths in terms of what refugees have to offer to their new communities. It is crucial to recognize that marginalized groups hold power to change their realities. Programs and initiatives designed for refugees often put them in a place where they do not have control over their future. By 2030, I would like to see more meaningful involvement of marginalized groups, nationally and internationally, in conversations about issues and policies that concern them.
How did you get involved in community development?
As a refugee myself, I learned how to use my traumatic experiences as a driving force to initiate change. However, until I met Samar* in the Zaatari refugee camp in Jordan, there were many times when I thought my work was meaningless.
Samar had faced many atrocities before arriving at the Zaatari camp. However, she was well-known in the camp because of her gardening skills. She turned the miserable-looking tent that had been assigned to her into an eye-catching home surrounded by flowers. "I believe that changing my surroundings will eventually change my reality and that people around me will feel better by just looking at the flowers I plant," Samar explained to me. She was right. Her garden inspired a gardening movement in the camp, and many started to grow their own produce.
Samar taught me that a simple action can generate a massive change. With that belief, I started making small changes in my world. I applied to plenty of scholarships and was finally admitted to the University of Alberta as a refugee student. I started pursuing a master's degree in global health, which has opened many doors for me to get involved in community work and research.
*The name in this story was changed to protect this individual's privacy.
What advice do you have for other young adults looking to get involved in sustainable development?
Knock on the door of your refugee neighbours, ask them questions, and check in on them. They will be happy to welcome you in and share their stories. You may find you share many similarities.
Support your local resettlement agencies and private sponsorship groups by volunteering or donating. A few organizations working with refugees in Edmonton include the Multicultural Health Brokers Co-op, Catholic Social Services, the Edmonton Mennonite Centre for Newcomers, and the Refugee Health Coalition.
Remember that marginalized groups such as refugees do not usually have any power over policy, but you do. Make your voice heard, write messages to your MP, and show them that you support refugees.
"The shortest distance between your perception of refugees and reality is a story."
-Joud Nour Eddin
More Top 30's from 2020