Mackenzie (Kamâmak) Brown
Top 30 Under 30 2020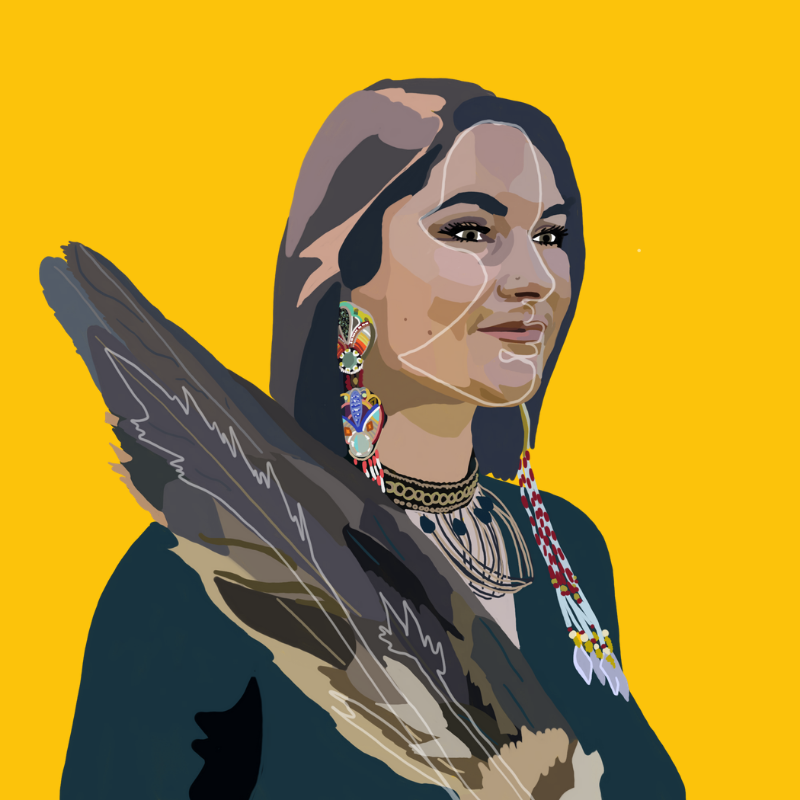 Mackenzie is a First Nations Cree woman from the Sturgeon Lake Cree Nation, currently residing in Amiskwacîwâskahikan (Edmonton). She is a performer, drummer, tourism entrepreneur, philanthropist, and advocate for at-risk youth in the Edmonton area.
Age: 24
Hometown: Edson, Alberta
Currently Residing In: Edmonton (Amiskwacîwâskahikan), Alberta
Projects and Organizations
2012–Present: Warrior Women – Indigenous Performer
Mackenzie and her mother perform as "Warrior Women." They drum and teach around Alberta for the Northern Alberta Teachers Conference, the annual Jasper Dark Skies Festival, Youth Dream Catchers Conference, Canada Day, Indigenous Day festivities, and more. The Warrior Women facilitate culturally appropriate educational performances as well as Indigenous creative workshops and programs.
Present: Indigenous Artist and Educator
Along with drumming, Mackenzie is also an avid acrylic artist and traditional First Nations crafts artisan. Her art has been featured in the Pump House Gallery, Arts Commons Calgary, the Edson Gallery Museum, and the Gray Gallery of MacEwan University. Her work has been recognized for the Alberta Indian Arts and Crafts Award of 2017, featured at the 2017 Alberta Business Competition, and sold to people travelling worldwide at Jasper Park Lodge. She is the recent recipient of the 2019 Esquao Award for Children's Future from the Institute for the Advancement of Aboriginal Women and the 2019 Jaime Carriere Iskwew of the Year Award.
2018–Present: Edmonton Tourism – Indigenous Tourism Development Specialist
At Edmonton Tourism, I ensure effective outreach, communication, and relationship-building with Indigenous communities. I support the development of Indigenous business through helping with case studies, outlining best practices, and supporting tourism business events.
Other Affiliations: Boys and Girls Club, Friendship Centre of Edson, Oak Hills Boys Ranch, UAlberta Dance Marathon President with Children's Miracle Network, UAlberta Body Love, Crystal Kids, Queen Elizabeth Golden Jubilee Award (2014), Get Real UAlberta, UAlberta Campus Stollery Youth Committee
Which of the United Nations Sustainable Development Goals resonates most with you?
When I look at the goals, I believe the one that resonates the most with me and my work is SDG 10: Reduced inequalities. My entire life has been focused on rights, access to support, reducing the gaps of poverty, and so on. My volunteering was heavily based around working to raise money for children in need so that every child could have the same access to health care. My work history has always centred around caring for at-risk youth and families. My drumming has always been about educating others about my culture so that we can all learn that we are not that different from one another. The idea of reducing inequalities means having everyone on the same playing field where we are all cared for, and that's what I strive for.
What change would you like to see in the world by 2030?
There's a lot of change I would like to see happen by 2030. I would love to see the gap of inequalities in access to education, food, resources, and housing close. I would love to see more sustainable housing options and renewable energy resources being used. I would love to see less of a gap between those who are prospering financially and those who are not. I would love to see clean water and see Mother Earth in a better state. I would love to see care, understanding, tolerance, cooperation, collaboration, and love. These ideals are hard to accomplish and take the work of thousands. Change can happen when we are all working toward a common goal.
What advice do you have for other young adults looking to get involved in sustainable development?
There are so many ways youth can get involved. It can be as small as doing research on sustainable tourism before travelling or supporting local when buying gifts. It could be as big as starting a climate change group at school or being part of a graduate students' association. I challenge youth to get to know the new kid in their school who just immigrated to Canada, and to attend marches for climate change and education. I challenge youth to volunteer at the food bank or donate a toy to their local youth shelter. There are honestly so many big or small ways you can be involved. All change matters.
"All change matters, no matter how big or small the gesture."
-Mackenzie (Kamâmak) Brown
More Top 30's from 2020