Annual Top 30 Celebration Event
Each year, the Alberta Council for Global Cooperation (ACGC) celebrates its Top 30 Under 30 through an awards celebration in Alberta. The celebration takes place during the first week of Februrary, which marks Canada's annual International Development Week. This year (2020) we enjoyed the 9th Annual Top 30 Under 30 celebration at the Central Library in Calgary. It was the 30th anniversary of International Development Week, so this year was a special one!
2020 Event Recap
We saw families, friends and community come together this year to congratulate 2020's Top 30. The program began with greetings of encouragement from Global Affairs Canada Director Vaugn Lantz, ACGC Executive Director Leah Ettarh, and government representatives. We then got to hear from several Top 30's, including Kevin Laxamana, Glendy Paola Agustin (through video), Joud Nour Eddin, and Mackenzie Brown. A special thanks to Top 30's Sabreena Braich and Melissa Scott, our hosts for the evening. 
This year's event marked the 30th Anniversary of International Development Week, with the theme of 'Go For The Goals'. Following the celebration, attendants were invited to attend a keynote address by female athletes who are "going for the goals" by working to promote gender equality through sport. Our first keynote address was by Nikita Kalonji, who discussed her journey to community development and health through sport. Our second keynote address was by Friba Rezayee, who provided insight on the barriers women in Afghanistan face and described how girls can become empowered through sport. The evening concluded with a special Q&A period hosted by Top 30 Rose-Eva Forgues-Jenkins.
Keynote Address by Friba Rezayee
Friba Rezayee competed in judo at the 2004 Summer Olympic Games as one of Afghanistan's first female Olympians, and is now an advocate for gender equality in the worlds of sport and international development.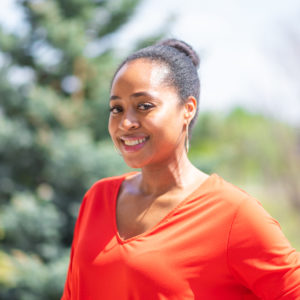 Keynote Address by Nikita Kalonji
Nikita Kalonji has been playing sports for most of her life, collected a few MVP awards playing basketball for the University of Alberta, and is now an ambassador for Fast and Female, an organization that empowers young girls through sports.